Writer: G. Willow Wilson
Artists: Adrian Alphona, Nico Leon & Takeshi Miyazawa
Colourist: Ian Herring
Lettering: Virtual Calligraphy & Joe Caramagna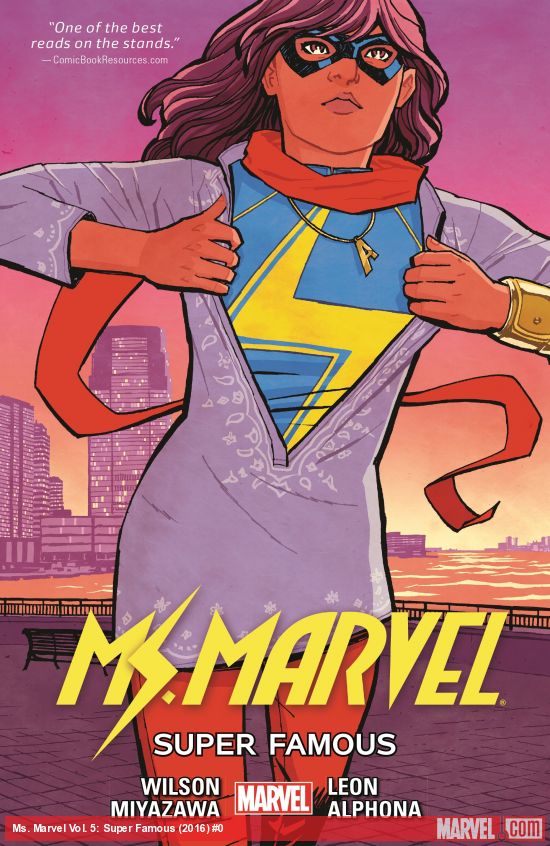 Image Credit: Marvel
Over the course of the last two years Ms. Marvel has become an absolute sensation and rightly so. It has been critically acclaimed from almost every outlet being both a source of inspiration and glorious fun. As it moves into its third year and has finished its arc Kamala is growing up and this presents new challenges both to her as a character and a book.
Kamala has become such an icon because Wilson has managed to find the perfect balance of particularism and universalism. Kamala is arguably unique in big-two comics as a popular legacy hero who is a young Muslim-American woman, and her sense of fun and the trials she goes through growing up are as relatable to this generation as Peter Parker's were back in the sixties. At the same time the story arc developed in the first four volumes was so carefully planned out and tightly drawn that if the story had ended there it would have been, although a massive disappointment, a satisfying tale that would probably regularly top the greatest runs and be subjected to sub-par revivals years down the road. Whilst thankfully this is not Ms. Marvel's fate, the book is now faced with the second album problem, after such a high note that works alone.
The challenges are real for Kamala too. As she grows up and becomes an icon people look to her as a symbol and protector, yet she also has to pass her exams at school and be there for her family and friends when they need her. Becoming an Avenger was a natural next step for the character but it presents the same challenges both within the universe and for writing a cohesive story. This is resolved by building on what has already been written without forgetting the meaning and purpose of any elements of it, combining these elements into the storyline.
The desire to be in many places at once is a natural one, as is to want to be all things to all people. Everyone has had this experience growing up and the temptation to try to actually do it the way Kamala does is one we all might seek out. However, we know from the moment of its inception that the plan is doomed to failure. Whether intentionally or not, this works as a rebuke of the standard practice in mainstream comics; where as soon as a character is popular they are put in as many other comics as possible in order to beef up sales, as is often demonstrated by the omnipresence of Wolverine, Spiderman and Batman. But this risks creating a monster without real substance, mere merchandise. The solution as always to decide what is important and to do less well, not to spread yourself completely thin.
The growth of the characters around Kamala demonstrates well the lightness of touch G. Willow Wilson has shown so many times before. Tyesha and Aamir are an adorable couple and it raises interesting questions about religion and race without getting too heavy or condemning activity.
What was a bit of challenge for me was in the changing of the artist to Nico Leon from issue four. This is not because Leon is not a great artist nor that the title has not changed artist before. What was a shock was the change away from the very distinctive stylised look that the different artists have previously gone for, instead going for something more realistic. I enjoy it now but it creates a very different look, like moving between video tape and celluloid as a filming material.
Whilst it fits in with the overall themes of the story, I do have some concerns with the choices they made with the Bruno and Kamala relationship. I love Mike as a character but I'm never keen on the superhero trope of being forced to choose between loving one person and saving the world. With teenagers, it can make things more understandable but it is a cheap trope usually used to manufacture tension where it does not need to exist. It would be the equivalent of treating a doctor with disdain for being on call. Luckily it is more or less resolved so it will hopefully not be an ongoing thread.
Overall, Wilson manages to steer the title brilliantly into the start of a second run by building on what has come before and going into new areas without losing the heart of what is already there.